PaySense offers personal loans online to salaried or self-employed individuals for loan amounts up to Rs.5 Lakhs with flexible repayment tenure ranging between 3 to 60 months. They deliver personal loans at interest rates of 1.4% to 2.3% per month. PaySense also offers personal loans to people with zero credit history.
PaySense Personal Loan Key Highlights
Loan Amount
Rs.5000 to Rs.5 Lakhs
Interest Rates
1.4% to 2.3% per month
Loan Tenure
3 months to 60 months
Occupation
Salaried or Self-employed
Age Limit
21 to 60 years
Features or Benefits of PaySense Personal Loan
Following are the crucial benefits of availing of a personal loan from PaySense.
Quick approval and disbursement- You can apply for a prompt loan of up to Rs.5 lakhs and get instant approval and disbursement in your account.
Reasonable EMI plans- It is easy to manage EMI options with reminders and auto-debit features so that you don't miss out on your timely loan repayments.
Subsequent personal loans- You can avail of subsequent personal loans in a single click from PaySense with one-time documentation, no further checking is required.
Zero credit history- PaySense also serves users who are new to the credit and lending system and have no credit history.
Paperless documentation- The documentation process is completely digital, you need to upload pictures of KYC documents and sign your loan application digitally.
PaySense Instant Personal Loan Eligibility Criteria
Applicants need to fulfill the following eligibility standards to get a personal loan from PaySense. Eligibility factors consist of age, occupation, citizenship, credit score, monthly income, etc.
Residential status- Applicants must be residents of India
Age limit- Age must exist between 21 years to 60 years
Employment Type- Salaried and  Self-employed persons can apply
Minimum Income- 18,000 per month for salaried and Rs.20,000 for self-employed persons.
Borrowers must have a decent credit score that reflects strong past credit performance.
Note:- Learn 10 assured ways to improve your credit score quickly.
| | |
| --- | --- |
| Range | Grade |
| 650-699 | Fair |
| 700-749 | Good |
| 750 and above | Excellent |
PaySense Instant Personal Loan Required Documents
Applicants need to keep some documents handy before starting to apply for an instant personal loan
Proof of Identity- PAN Card and Selfie are required.
Proof of Address- Aadhar Card, Voter ID, Driving License, or Passport.
Proof of Income- Net Banking or bank e-statements for the previous 3 months.
PaySense Personal Loan Interest Rate and Other Fees or Charges
The ultimate interest rates offered to the loan applicant would fluctuate according to the CIBIL score, monthly income, job profile, etc. of the loan applicants.
| | |
| --- | --- |
| Interest Rates | 1.4%-2.3% per month |
| Processing Fees | Up to 2.5% of the loan amount plus GST |
| Late Payments Penalty | Rs.500 + GST |
| Foreclosure / Pre-payment charges | Loan foreclosure can only be requested after repayment of the first 3 EMIs. The borrower needs to pay an additional 4% charge on the principal outstanding amount. |
Simple Steps to Avail PaySense Personal Loan
It is easy to get an instant personal loan with PaySense, you need to follow all the steps mentioned below.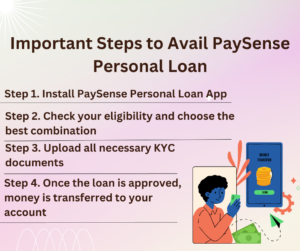 Step 1. Install the PaySense personal loan app- You can install PaySense personal loan app through google playstore or you can directly apply through their official website www.gopaysense.com.
Step 2. Check your eligibility and choose the best combination- First, you need to fill in basic details to check your current eligibility for PaySense personal loans and get a Credit Line.
After getting your Credit Line, you can choose the best combination of the loan amount, loan duration, and EMIs as your loan plan.
Step 3. Upload all necessary KYC documents- Applicants must have to upload a few documents to complete KYC and get approval. It is essential to sign the loan agreement and a NACH form to facilitate the auto-deduction of EMIs.
NACH form ensures your timely EMI payments. The process is paperless, once you upload all mandatory documents, you should get approval within 2 working hours.
Step 4. Money directly transferred to your account- Once your personal loan application procedure is completed, your borrowed money will be directly transferred to your account.
Types of PaySense Personal Loan
Following are the types of personal loans provided by PaySense to meet numerous borrower's demands.
Instant personal loan- Instant personal loan is for both salaried professionals and self-employed workers to meet their urgent financial obligations.
Personal loan for salaried employees- The fixed monthly income of the employee may not be sufficient to handle uncertain responsibilities in an emergency. PaySense provides personal loans to salaried individuals with less documentation.
Personal Loan for Self-employed- PaySense provides several benefits to self-employed individuals because an unstable monthly income is an important drawback for self-employed persons. This loan was provided to increase finances for business expansion.
Personal loan for consumer durables- PaySense provides personal loans to purchase consumer durable products such as electronic appliances that have a long life.
Personal loan for marriage- A marriage in India includes miscellaneous expenses. It helps to cover all marriage-related expenses, and you can make your marriage ceremony memorable.
Personal loan for travel- It is a personal loan to fund holidays for national and international travelling expenses.
Personal loan for medical emergencies- An unsecured personal loan for funding medical emergencies can help you manage immediate costs that are not covered by medical insurance.
Personal loan for home improvement- It is a collateral-free loan to meet additional home-related expenses for home renovation.
Personal loan for education- the availability of funds does not restrain students who want to pursue higher education. PaySense provides funds to achieve their academic goals.
Pros and Cons of PaySense Instant Personal Loan
Following are the pros and cons of availing of a personal loan from PaySense as per ratings and reviews of existing or previous users.
| | |
| --- | --- |
|                                  PROS                                 | CONS |
| Provide loans at little or No low credit score | Users are not happy with their services |
| No hidden fees/charges | Take a long time for loan approval |
| Great user interface | High-interest rate |
| Single-click subsequent personal loans | The app is not working properly |
| The auto debit feature is available for timely repayments | |
PaySense Instant Personal Loan App Ratings & Reviews
The rating given by the users for the PaySense App is average on the Google Playstore, more than 1 crore users download their app. You can read the below table for App assessment.
| | | |
| --- | --- | --- |
| 1. | Playstore Rating | 3.7*/5 |
| 2. | Number of Downloads | More than 1 Crore |
| 3. | Number of Users Review | 1,20,418 |
| 4. | Content Rating | 3+ |
| 5. | App Size | 16 MB |
| 6. | OS Required | Android 5.0 and above |
| 7. | App Permissions | Camera, Location, SMS, Other |
PaySense Personal Loan Customer Care Details
If you have a query about the PaySense service or have an issue, you can send an email to support@gopaysense.com. Their customer service team will get back to you after getting the request.
Note- PaySense does not have a customer care number.
PaySense office address- Jaivilla Dev Shakti, 49 Tilak Road, Navyug Colony, Santacruz West, Mumbai, 400054, Maharashtra, India
Frequently Asked Questions for PaySense Instant Personal Loan
1. Is PaySense safe for personal loans?
Yes, PaySense App is safe. User's sensitive and personal information is encrypted and kept safe through SSL protocol. They do not share customer's information with third-party.
2. Which banks and NBFCs have PaySense partnered with?
Presently, they have partnered with India Infoline and Fullerton to serve borrowers.
3. How much time would it take to get the loan approval once I have completed the loan application?
It will take up to 2 working hours to verify and provide loan approval. You can easily check your loan application status on the app. You also get notifications for e-mail and SMS for the application's current status.
4. How many days will it take to get the money transferred?
Once an application is approved, their team and the lending partners work to get the money in your registered and verified bank account within 5 working days.
Recommendation- PaySense provides personal loans to both salaried and self-employed. Their interest rates are a little bit higher but they don't have hidden charges. Users are not much satisfied with their service as per the average review on google playstore. It is recommended to compare with other personal loan providers before availing loan. In the beginning, to check their services you can apply for a lower amount.
Thank you for reading!
You can compare below with other lenders